Species extinctions under global change in the Nogués-Bravo Group
Thousands of species and ecosystems are increasingly exposed to global changes. We unify macroecology, global change biology and genomics to explore mechanistic insights in biodiversity change, and improve forecast of future extinction risk. This also provides the foundation to better understand dynamics and drivers of species extinctions.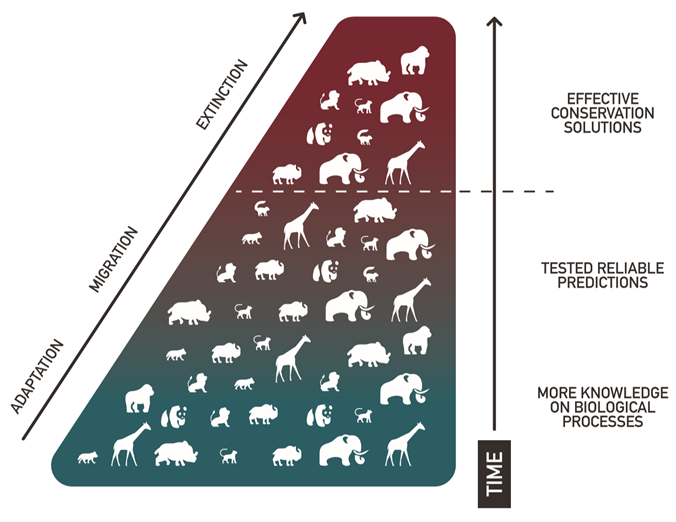 By generating primary level field data and use large already available datasets on fossils, paleo-genomics, distributions, phylogenies, traits and paleo-environmental reconstructions.

I explore the spatio-temporal dynamics and mechanisms behind biodiversity decline in the past under climate change, from local extirpations to global extinctions,a nd also including the impacts by Homo during the Late Quaternary by unifying macroecology, community ecology, paleoecology and paleoclimatology. I address four fundamental questions: Are species and ecological communities resilient to extinctions?; What do make a species a winner or a loser under climate change?; How many (and which) species are likely to be susceptible to climate change? What conservation lessons offer to the past to safeguard the future of biological diversity?. The quest for answering these questions pursue the grand challenge to improve the current ability of our societies to anticipate and mitigate the decline of nature. 
Miraldo et al. 2016 An Anthropocene map of genetic diversity. Science.
Nogués-Bravo et al. 2018 Cracking the code of biodiversity responses to past climate change. Trends in Ecology and Evolution
Botta et al. 2019 Abrupt change in climate and biotic systems. Current Biology
See full list of publications by David Nogués Bravo
Independent research fund Denmark