28 October 2022
Microbes at Culture Night
Culture Night
This year the Center for Evolutionary Hologenomics took part in Culture Night with our stand: "The microbes you can't live without" in the Mærsk Tower alongside other research centres from SUND. The many participants met us with curiosity and interest in microbes.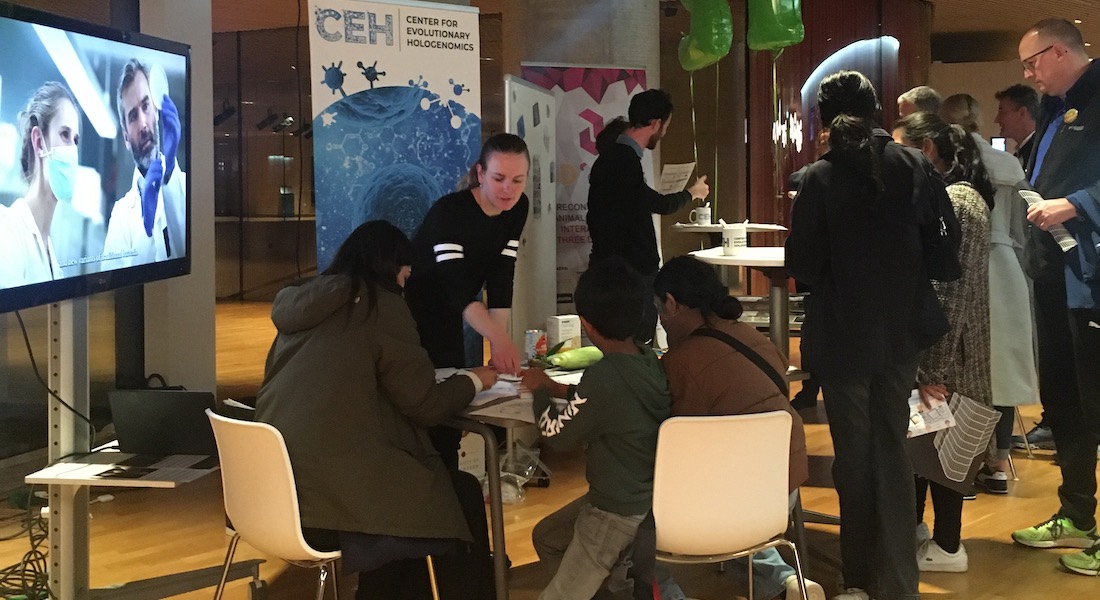 Culture Night is a big and beloved Danish phenomenon, happening yearly in the month of October, and therefore, it is amazing having CEH represented. Not only is it a way of growing the public awareness and knowledge of the innovative research happening at CEH, but it is also a way for CEH to connect with the public, who – at the end of the day – are the people that our research is aimed at impacting.
Quizzing about ant parts in yoghurt
Project and communications manager Ana Veríssimo, Assistant Professor Chris Barnes, postdoc Jack Howe, and research assistant Sascha Dreyer Nielsen were present at our stand "The microbes you can't live without" all night. They each work on different projects within CEH, making their knowledge within our field highly diverse. The activities at the stand were also quite diverse with options for people of all ages: A multiple choice quiz about hologenomics with questions about everything from the average amount of bacteria in the human body to how ants can be included in the process of making yoghurt, as well as colouring sheets for children with illustrations of and fun facts about different microbes.
The quiz as well as the colouring sheets were popular among the many people visiting the stand. Ana describes how this was especially true when there was a group of people having fun with it together, elaborating how "that attracted more curious people passing by." Both Jack and Chris agree, stressing that people got quite competitive. The quiz generated a lot of interest and was a great conversation starter. An example of this being that: "People were surprised at the number of bacteria we have while it only weighs 0.2 kg. They thought that the answer to the question about the weight of the bacteria was 3 kg, but then we discussed size and how ridiculous it would be if we actually had 3 kg of bacteria in and on us!" says Ana.
Popular activities, props and merchandise
However, these were not the only things happening at the stand. Jack, who does research on flatworms, had brought some of these for display at the stand; showing how the flatworms can regenerate themselves after being cut in half. The people visiting the stand were quite taken with and curious about this, though some people were a bit unsure about how to feel about it. During the entire event explainer videos produced by CEH were shown on a loop on a screen next to the stand. This caused some people to stop and watch for a while learning even more about the different ways hologenomics can be applied. And at the tables were lots of different kinds of merchandise – pens, stickers, and postcards – which were all happily taken by the visitors. All in all, the many different activities, props, and merchandise seemed to spark lots of interest and curiosity.
Curiosity and interest in microbes
The curiosity and interest were shown through clever questions and expressions of genuine surprise. "People were interested in how the understanding of the microbiome can positively affect agriculture, in ways regarding for instance animal well-being and drought resistance, as well as human health. I think generally people were surprised at how big an impact microbes can have," Jack said about this. And Chris was himself happily surprised at how much some people already seemed to know about the field, "Nearly everyone knew that microbes are associated with animals and plants. Encouragingly, most of them knew that they are not only bad (i.e. pathogens) but that there are also some good ones."
It seems fair to say that CEH at Culture Night 2022 was a fun and great event for the people of CEH as well as for the visitors of the stand. It is great to see people responding so positively to the amazing work being done at CEH. Some people even expressed the wish to be able to learn more about the research being done via social media, and a few students promised to get in touch about potential projects. It is exciting to see how this growing awareness of and interest in hologenomics will impact CEH in the future.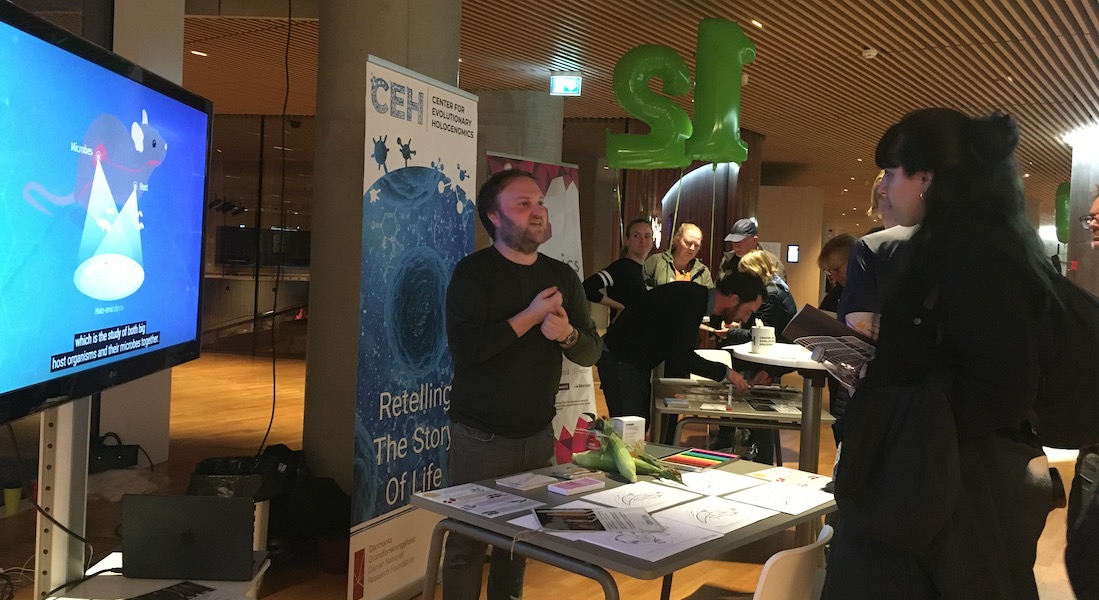 Contact:
Project and communications manager Ana Versissimo.
Topics