17 May 2023
Reaching the next generations
Communication
How do we share groundbreaking new technologies and research with the next generation of researchers? The Center for Evolutionary Hologenomics believes that the answer to this question is to share our complex yet highly relevant and interesting research field, hologenomics, with elementary and high school pupils and their teachers.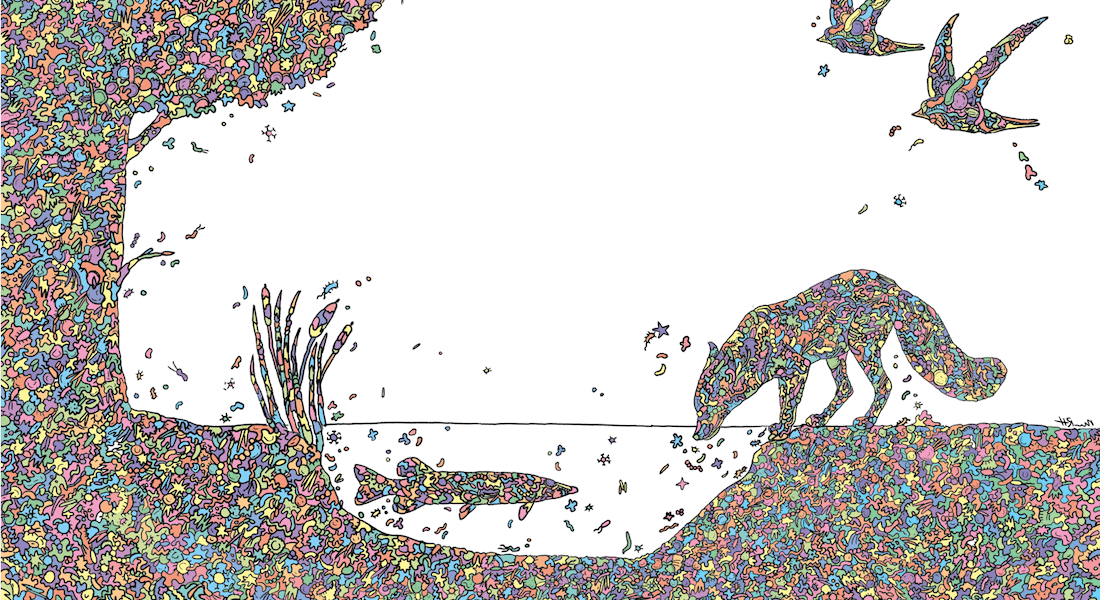 Hologenomics is a new groundbreaking research field retelling the story of life by looking not only at the genome of the host organism but also at all of the genomes of the millions of microorganisms associated with that host organism. It is a complex new field with a lot of yet to be answered questions, and therefore, it is not the easiest to disseminate to the public. However, as it is highly relevant for human health and easily applied to some of the big challenges that we face today, such as climate change and a global food crisis, we do feel obliged to share our new hologenomic knowledge not only with interested colleagues and collaborators but also with the general public. Ultimately, it is these people who will benefit from the research being done and be the next generation of researchers.
What is hologenomics?
The big challenge is how to reach and engage the general public with research about tiny, invisible microbes and their even tinier genomes and terms such as hologenomics that no one has ever heard about before. To combat this challenge, communication responsible Christina Noer at the Center for Evolutionary Hologenomics has made a strategy consisting of what she calls "multiple stepping stones" to get our important research mediated to the public at large, especially focusing on the younger generations.
Last year we wrote the very first article in Danish about hologenomics. It was published in the magazine Aktuel Naturvidenskab, which is aimed at high school students and their teachers. This spring we continued in this direction by writing a whole theme issue about hologenomics in Danish for Biologiforbundets magazine Kaskelot, which is mainly written for elementary school teachers in biology and Natur/Teknik, as well as their pupils. The theme issue consists of five articles spanning everything from an introduction to the new field hologenomics, human health, edible insects and the applied aspects of hologenomics to improve the food production industry as well as a small assignment about the microbes in the everyday life of the pupils. The magazine even provides a useful list of further inspiration about hologenomics.
Hope for future generations
"Hologenomics opens up a lot of new questions to be considered and answered, but it also gives us renewed hope that we will be able to tackle some of the great challenges we face such as climate change, mental health problems, drought, obesity, and the food crisis. We want to, and feel obliged to, share this hope with the younger generations" says Christina Noer.
The next step is to make a teaching module in Hologenomics aimed at STX and HTX students in collaboration with Frederiksberg Gymnasium. The generations studying HTX and STX are our future colleagues and hence it is really important to get them interested in the incredible world of hologenomic science. This is, however, a long term investment and plan, as external funding is needed in order to secure a useful product.
At this time, we are extremely proud of how far we have come in the communication and outreach of the new groundbreaking research being done here at the Center for Evolutionary Hologenomics. We are impressed by the positive response from both elementary and highschool teachers and their students and excited about what the future holds, and what communicative possibilities we will have the chance to explore next.
You can read the articles about hologenomics in Danish here or via Kaskelot.
Contact:
Communication responsible Christina Lehmkuhl Noer.
Topics