Integrating environmental DNA, geoscience and zooarcheology within the Q-group
The Q-group research clusters in glacial geology, stratigraphy, associated landscapes as well as zoo- archaeology and environmental DNA. A longstanding goal is to integrate environmental DNA research with the Quaternary Sciences to open a new frontier in global geobiohistory.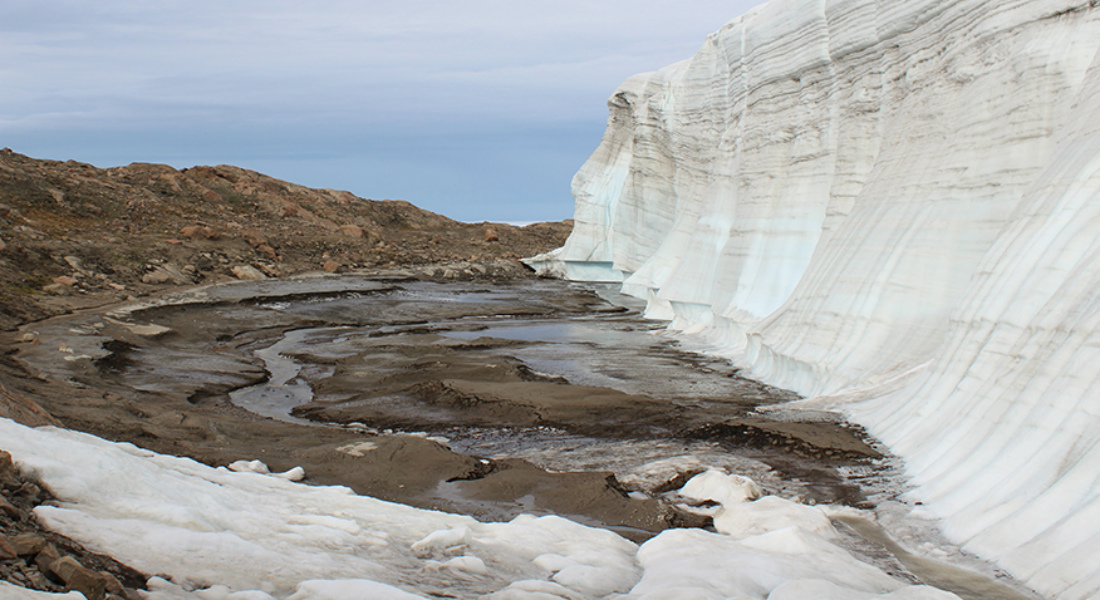 The Q-group focus on a number of interdisciplinary research fields:
Anthropocene - We tap new global archives of ancient diseases, preindustrial pollution and biotic adaptation to offer potential step-change in world history research, allowing us to define and quantify the biological forces contributing to the rise and fall of civilizations.
Arctic ice, climate and environmental history – we use a multiproxy approach to study the ice- and climate
history in Greenland, Svalbard and Iceland.
Scandinavia ice sheet history – we use traditional field mapping with state-of-the-art dating techniques to constrain the Pleistocene ice sheet history and landscape evolution.
Zooarchaeology – we use traditional morphological and metric analysis combined with e.g. DNA protein, and isotopic analysis to study the human-animal relationship across the world.
Kurt H. Kjær, Nicolaj K. Larsen, Tobias 

Binde, Anders A. Bjørk, Olaf Eisen, Mark A. Fahnestock, Svend Funder, Adam A. Garde, Henning Haack, Veit Helm, Michael Houmark-Nielsen, Kristian K. Kjeldsen, Shfaqat A. Khan, Iain McDonald, Horst Machguth, Mathieu Morlighem, Jérémie

Mouginot, John D. Paden, Tod E. Waight, 

Christian Weikusat, Eske Willerslev, Joseph A. MacGregor (2018): A large Pleistocene impact crater beneath Hiawatha Glacier in northwest Greenland. Science Advances4 (11).

Larsen, N.K., Levy, L.B., Carlson, A., Buizert, 

C., Olsen, J., Strunk, A., Bjørk., A.A., & Skov, D.S. (2018): Instability of the Northeast Greenland Ice Stream over the last 45,000 years. Nature Communications, doi: 10.1038/s41467-018-04312-7.

Bangsgaard, P., Yeomans, L., Darabi H., 

Gregersen, K. M., Olsen, J., Richter, T. & Mortensen, P. (2019): Feasting on wild boar in the Early Neolithic. Evidence from an 11.400 year old place deposit at Tappeh Asiab, Central Zagros. Cambridge Archaeological Journal: 1-21
See literature list of Kurt H. Kjær  and Nicolaj K. Larsen 
Carlsberg Foundation

Independent Research Fund Denmark
Innovation Fund Denmark
European Research Council

The Velux Foundations

C.L. Davids Samling og Fond
GeoCenter Denmark
Uncovering the biological forces contributing to the rise and fall of lost civilizations.
Hiawatha impact crater project
Determining the impact environment and age of the newly discovery impact crater in Northwest Greenland.
Air Pollution in the Antropocene
Reconstructing atmospheric pollution records in Northern Europe using sediment records extending from the late preindustrial period to the present.
Tracking Cultural and Environmental Change
Investigate the transition from hunting and gathering to agriculture, in the central Zagros, Iran. Participation in the project includes paleoecology and zooarchaeological research.
| Name | Title | | |
| --- | --- | --- | --- |
| Jakob Gaustavson  | MSc. student | | |